Setting up and Using our Mumble channel:
The company that I have hosting the server, provided a free mumble channel with our account so I think if your able to use it that would make it much easier to communicate in game. I'm gonna provide instructions for getting started with mumble if your unfamiliar with it.
Things you'll need:
-You'll need a computer running any major OS.
-Either a USB, MIDI, or Bluetooth microphone, compatible with your OS.
-Thats it! Its pretty easy to get started.
First things first- head to this adress and download the Mumble client for your system:
http://mumble.sourceforge.net/
you'll want to pick the most recent stable build.
Next you'll want to- run the installer it gives you and you should then be presented with a window that looks like this:
You'll want to click "Add New..." at the bottom left and then you'll be presented with the next window.

Then you'll see- this screen that allows you to input the info for a custom channel: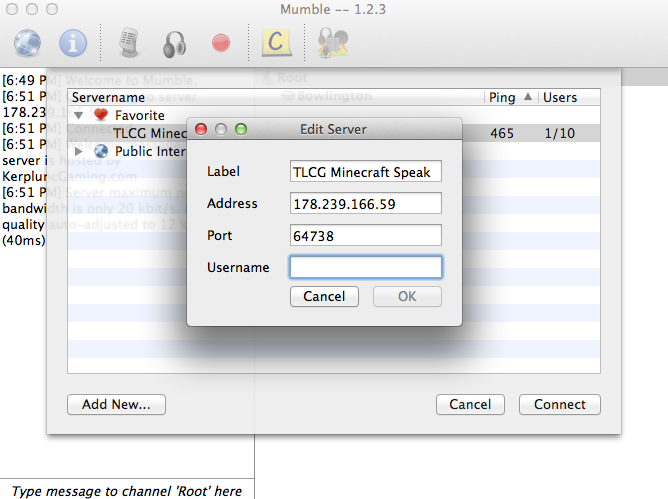 I've already filled this dialogue out with the information you'll need to input, you'll also need to input your own unique username (this should match either your in-game username or the username your most easily recognized by i.e. your username here on the forum).
Lastly you'll see- some server chatter on the left pane while it connects you to the server and the other users that are on it. This is what you should see when you finish setting up everything and are connected: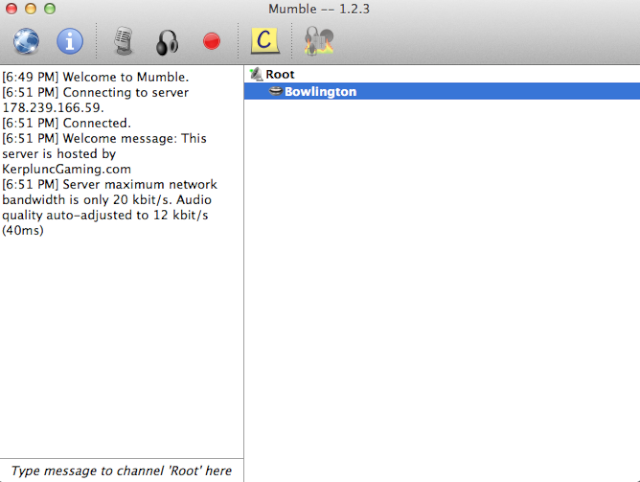 Your username, along with every other connected user will appear on the right pane where you see my username. Note: when the pair of lips next to your name is RED you are speaking to the entire server. The three centered buttons at the top of the window allow you to "mute yourself", "mute others" and "record", in order from left to right.
I'm using Mac OSX 10.7, so the screenshots reflect this, however the process for installing and using Mumble are the same cross-platform.
This should get you set up using Mumble. Apart from being useful for playing on the Minecraft server, Mumble can also be used in place of the in game voice systems of console games (BF3, MW3, BFBC2), allowing better control and a better connection that stays open even when someone gets disconnected in game.
If anyone needs any help with setting up, running, or anything specific about Mumble please post your issue here, and I'll do what I can to help out.